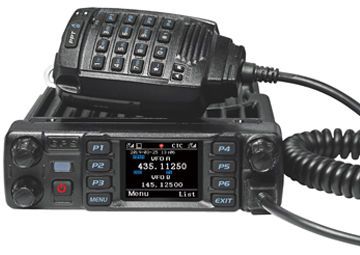 Anytone AT-D578UVIII PRO
NEW

Anytone AT-D578UVIII Pro
Loaded with features: Dual-Band 2m/70cm, DMR and Analog mobile with GPS, Bluetooth and Full Duplex Receive onboard!
This "State of the Art" mobile radio from Anytone is a must have. Two volume control knobs provide easy adjustment for either of the two frequencies your radio is tuned to.
The AT-D578UVIII PRO has a very large TX/RX range that would be essential for someone using this for First Responder operations. 2m: 136-174 MHz    70cm: 400-480 MHz
The transmit power is adjustable for both VHF/UHF. VHF: 50w, 25w, 10w, and 1w    UHF: 45w, 25w, 10w, and 1w
This radio also has the DMR Repeater Roaming feature. This feature allows you to remain with the same talk group as you are changing from one repeater to the next.
The 1.77 inch TFT (Thin-Film-Transistor) display allows the screen to have ultimate visiblity day or night. You can also change the display and font colors to suit your preference.
Another great feature this radio offers is Bluetooth. This feature allows you to connect your radio to a compatible Bluetooth device, including your vehicle's Bluetooth system, (if available - Note: compatible with most systems).
Specifications:
Frequency Range: 2m: 136-174 MHz    70cm: 400-480MHz
Power: 50w (45w UHF), 25w, 10w, 1w
Memory Channels: 4,000
DMR Talk Groups: 10,000
Digital Contacts: 200,000

Zones: 250, 250 channels per zone
DMR Compatibility: Tier 1 and Tier 2

TFT Display: 1.77 inch TFT display
FCC: FCC Part 90 Certified, FCC ID: T4K-D578UV
Programing Cable included