TYT MD-380V DMR Handheld Radio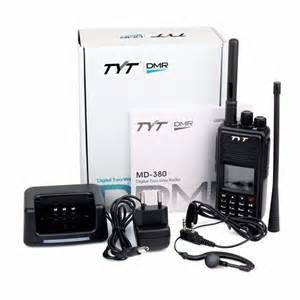 TYT MD-380V DMR Handheld Radio
Tytera (TYT) MD-380V DMR Digital Portable Two Way Radio. The MD-380V operates in BOTH analog and digital modes allowing you to transition into the world of Digital operation! With up to 5 watts power output it utilizes Time Division Multiple Access (TDMA) digital technology which doubles the number of users on a single 12.5kHz channel!

The MD 380V also provides 1000 memory channels, dual-color transmit/receive LED, CTCSS/DCS, channel scan, priority scan and DTMF keypad with full access to an enormous menu of available settings!

The MD-380V has Private Call, Group Call and All Call for all the flexibility expected from true professional DMR radio. The large color LCD display enhances the legibility of your text, text messages, and graphics at a single glance.
The MD-380V supports Mototurbo Tier I & II as well as standard protocol ETSI TS102 361-1.2.-3.
Frequency Range:
RX: 136.00-174.00 MHz
TX: 136.00-174.00 MHz
Channels: 1000
Output power: High: 5 watts/Low: 1 watt

Includes: radio, antenna, belt clip, drop-in desktop AC charger, 2000mAh lithium-ion rechargeable battery, owner's manual, PROGRAMMING CABLE, and one year manufacturer warranty.