MFJ-223 COLOR GRAPHIC VNA ANTENNA ANALYZER, 1-60MHZ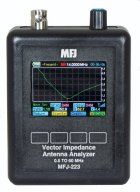 MFJ-223 COLOR GRAPHIC VNA ANTENNA ANALYZER, 1-60MHZ
Pocket-Size, Incredible Performance! Truly accurate SWR, R, X and Z!

This pocket-sized wonder breaks the mold for analyzer design with user-friendly convenience, top notch accuracy, and a vivid TFT multi-color display. Don`t let the size fool you, MFJ-223 is packed with all the VNA features and performance you need!

For example, get data for SWR, resistance (R), reactance (X), and impedance magnitude (Z) delivered on a color-coded high-resolution bar-graph display or sharply defined swept-frequency plots.

Get continuous DDS frequency coverage with 100-Hz resolution and a full selection of tuning steps and sweeps.

There`s a movable marker that calls up alpha-numeric data for any point on any plot -- and a memory to capture current data when you turn the analyzer off.

Get other useful features too, like a built in help menu and a field-strength indicator warns when powerful interference is present.

Best of all, juggling batteries is a thing of the past -- a long-running lithium-polymer power source is built right in. Recharge via any USB port.