Gordon West General Class License Computer Software Study Package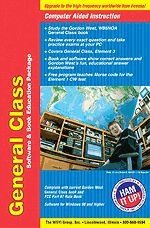 Gordon West General Class License Computer Software Study Package
With a General Class Amateur Radio license you can talk around the world on a multitude of DX-rich high frequency (HF) bands with a transmitter power level of up to 1500 watts! All possible 462 license exam questions, randomly selected, -- and their multiple choice answers, schematic diagrams, and explanations of the correct answers are presented "on screen." No Internet connection required. Study anytime, anywhere on your laptop or home computer. Complete home study course includes all of the Gordon West General Class Manual (GWGM) along with the FCC Rule Book (PT-97). W5YI HamStudy software scores your results and highlights areas where further study may be necessary. Print out sample tests or take exams directly on your PC!

Compatible with Win98 thru Win 8.1. Runs from CD - no Internet or installation required.

For exam preparation effective July 1, 2015 - Valid until June 30, 2019. Study With The Best - Study With West!