Gordon West Extra Class License Study Guide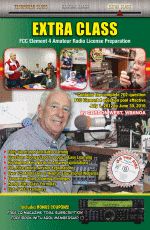 Gordon West Extra Class License Study Guide
Gordo's new Extra Class study manual for the Element 4 exam has a host of new features to make it easier to get to the top! The new Element 4 pool has 712 questions. There are about 100 brand-new questions, and the Q&A have been rewritten to dramatically improve the exam content to better reflect the Extra Class privileges, operation, equipment and antennas. As in his Technician and General Class books, Gordo has reorganized the Element 4 Q&A into logical topic groups to follow the syllabus of his famous Radio School ham class – and KEY WORDS are highlighted in BLUE throughout the book.

Study With The Best - Study with West!




Extra Class valid July 1, 2016 until June 30, 2020.