Gordon West Extra Class License Audio Study Course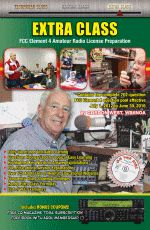 Gordon West Extra Class License Audio Study Course
Get one-on-one with Gordo as your personal Elmer for the Extra Class exam with his audio course for the Extra Class Element 4 written exam. This 6 CD audio course follows the organization of his Extra Class GWEM-12 study manual, (sold separately), and is a great study supplement to the book for extended explanations of the theory involved.

If you spend a lot of time traveling or just prefer audio instruction,you will find this a great way to learn the material to pass the Amateur Radio top license exam. The CD's include exciting sounds of on-the-air operations and demonstrations, and Gordo's expertise, enthusiasm and encouraging words will help you stay on track, with confidence, to reach your Extra Class goal!

Valid July 1, 2016 thru June 30, 2020.

Study With The Best - Study With West!