Comet CAA-500MARKII Analyzer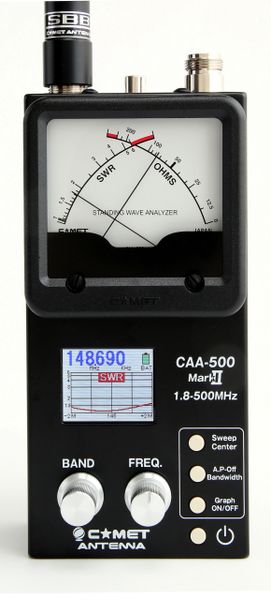 Comet CAA-500MARKII Analyzer
The NEW CAA-500MARKII Commercial Grade SWR/Impedance Analyzer is finally arriving from the Comet factory!
The new analyzer retains the same analog cross needles to display SWR and impedance, but ADDS a full color TFT LCD display screen providing graphic and numerical SWR along with total impedance with R and X values.
Features:
AUTO SWEEP MODE
Automatically graphs the SWR on the LCD display.   Choose any one of the pre-set amateur band frequency ranges and press the sweep button…in about 30 seconds the SWR graph is completed and displayed.
MANUAL SWEEP MODE
Choose the band and manually set the band-width and manually sweep the chosen frequency range.
MULTIPLE MANUAL SWEEPS
Should you want to make an adjustment to the antenna length, to the position, height above ground, a gamma match adjustment, etc…you can overlay 5 manual sweep results in different colors!  Instantly graph and see exactly what happened after each adjustment!
Range: 1.8 – 500MHz (including 222MHz band)
RF output level:  0dBm 1 mW

Measured SWR Range:  Analog meter 1.0 – 6.0:1 , LCD display 1.0 – 9.9:1

Impedance measurements: 12.5-300 ohms

Reactance range:  0 – 500 Ohms (absolute value) 1.8 -190MHz
Battery indicator and selectable Auto-Power-Off timer


Operates up to 9 hours continuous using six AA Alkaline or NiMH cells (not included) or use an external

8-16VDC 200ma power source (DC cable included)

Internal trickle charger option when using NiMH batteries

Size: 3.5 x 7.75 x 2.65 inches (overall)


Weight: 2lbs 2oz with alkaline batteries installed


Available for pre-order NOW!

The CAA-500MarkII is the primary tool for any antenna adjustment or diagnostic project.

Specifications subject to change without notice